Aurore FINCO, Vincent JACQUES & Isabelle PHILIP
Sensing using spin qubits is a rapidly growing field, enabling to probe a large variety of quantities. These quantities include magnetic field, electric field, pressure or temperature to name a few. Single spin qubits associated with the NV centers in diamond are outstanding in this respect, thanks to their long coherence time even at room temperature.
The main focus of the team is devoted to the use of NV-based sensors, enabling non-invasive, quantitative and vectorial magnetic field imaging with an unprecedented combination of nanoscale spatial resolution and ultrahigh magnetic sensitivity. These unique capabilities are applied to explore exotic spin textures in ferromagnetic nanostructures and to tackle fundamental problems in condensed matter physics at room temperature and in cryogenic environments, with a particular focus on antiferromagnets, ferrimagnets and 2D magnetic materials.
NV centers are also attractive nanothermometers, magnetic noise sensors or electrometers. Another research scope of the team aims at extending the sensing modalities of such point defects for implementing versatile nanoscale sensors able to probe various physical quantities in a single device.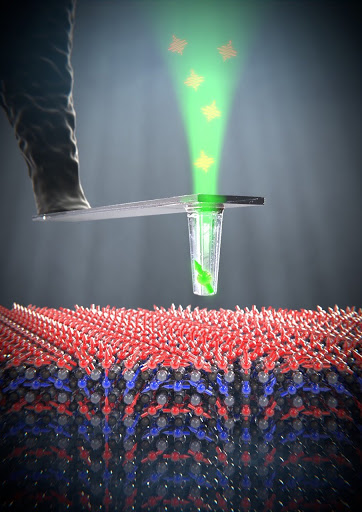 Diamond-based scanning magnetometer


Asteriqs, Tsar, Thermoquant



PIAF, Topsky, DiamantNMR,
Theseus, Tatoo